FEATURE
File-sharing and document management software
Proper document management is a key element in the achievement of a successful project. Having quick access to essential project documentation partly determines the quality of a project management software. That is why in a collaborative application like Planzone, document management has its rightful place, to enable the stakeholders to share these documents more easily.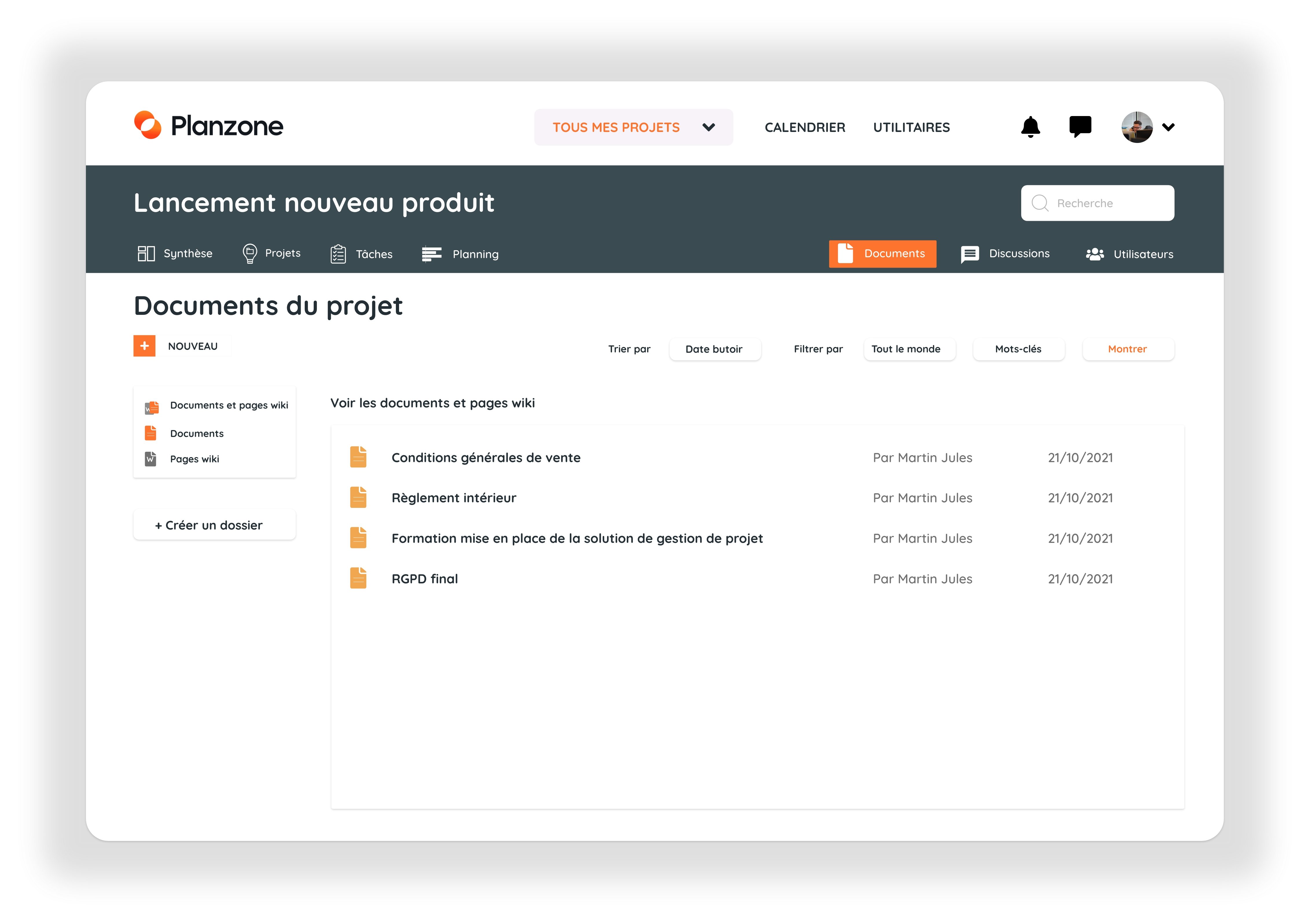 With document management...
1. STOP SCATTERING YOUR DOCUMENTS
Attach your documents to project tasks, events and milestones to have everything you need at your fingertips. Stop wasting time looking for information.
2. CONTROL DOCUMENT ACCESS
Sort your documents in folders that can be accessed by the members of your choice only. Create as many subfolders as you wish thanks to simplified document management processes.
3. SYNCHRONIZE YOUR DOCUMENTS
Import all documents from your Google Drive account. Any modification is automatically updated on the document stored in Planzone.
4. FOSTER DOCUMENT SHARING
Initiate discussions on your documents and notify your team of updates by email. By using Planzone to communicate, you centralize your conversation history.
5. AUTOMATE YOUR DOCUMENTS
Make sure that you are working on the last version of your document. Keep records of older versions if an error occurs.
6. TAG, SORT, FILTER
Tag your documents and find them easily using the keyword search function. You can also sort by date or name, and even filter by user.
A simplified document sharing process
By assigning files with selective access to well-defined projects, document management becomes more effective and suited to teamwork. The whole collaborative approach is an integral part of this tool that allows you to initiate a discussion on every document to progress more efficiently as a team. Besides, with the versioning system, all stakeholders will be able to read and edit the last version of the document, and all modifications will be saved.
Optimal document management
To have quick access to all documents, all files can be attached to tasks, milestones or events. Therefore, these files are naturally part of a project plan in which employees can have access-when the time comes-to the requested document. Coupled with a Gantt chart, a collaborative messaging service and all the other features offered by Planzone, this document manager will allow everyone to carry out projects under the best possible conditions.
A comprehensive project management solution