Gantt chart
A Gantt chart is a tool that allows you to visually and simply follow the progress of a project planning. A Gantt schedule consists of a left-hand column identifying all stages of the project and a calendar on the right (day, week, month, etc.) where tasks are represented in the form of a horizontal bar extending over several days, several weeks or months. Find this tool in the Planzone project management software!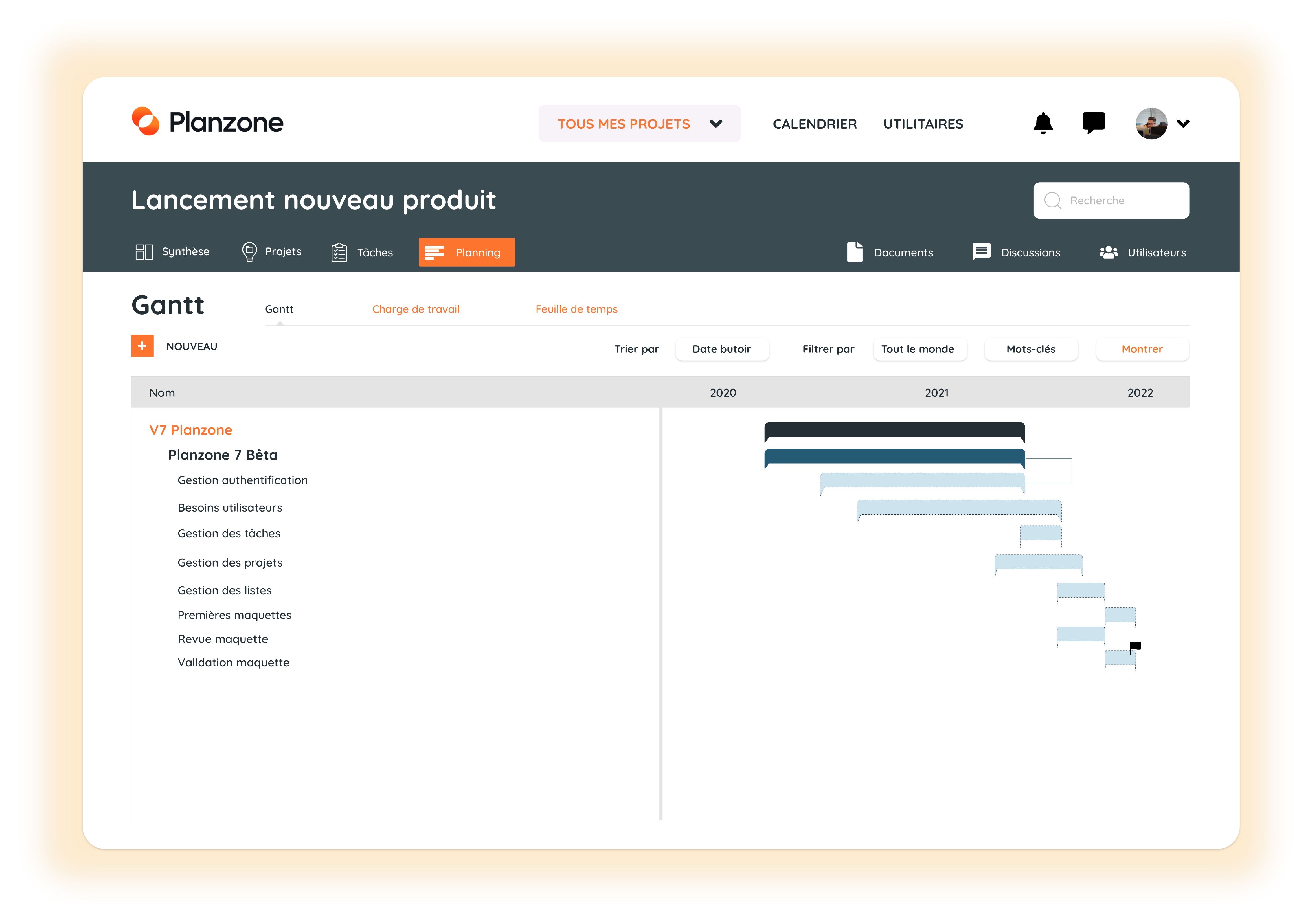 With the Gantt chart you will be able to
1. HAVE AN OVERALL VIEW
Plan all the elements associated with your project tasks to provide context: assigned, deadline, time allocated and estimated, percentage achieved.
2. MEASURE YOUR WORK WITH THE GANTT CHART
Your Gantt schedule automatically updates according to the progress of your work. Follow its evolution thanks to visual cues.
3. ALL YOUR PROJECTS AT A GLANCE
Follow in real time the assignment of tasks on all projects and their progress with the Multi-Project Gantt.
4. MARK THE IMPORTANT FACTS
Create milestones to identify the sticking points for your project.
Avoid too long deadlines.
5. TAG, SORT, FILTER
Arrange your Gantt schedule as you see fit by sorting the information by cut-off date, completion date, assigned, priority...
6. PLAN ACCORDINGLY
Create dependencies and constraints between the different tasks of your project by a simple drag-and-drop.
7. CHANGING YOUR ORGANIZATION
Have you made a mistake in the layout of your work? Reorganize all your tasks and lists with drag-and-drop.
Perfect for project planning
Useful in all areas of activity, the Gantt chart planning allows you to reflect on each task that constitutes a project. It is therefore a matter of putting the project in order before it even begins to visualize all the stages in the best way and to distribute them easily between the teams. Whether the project consists of 10, 50 or 100 steps, the structure of a Gantt schedule will be the same. Managers will then be able to calculate and estimate the cost and time of a project more easily.
Better work organization
With a better overall view of the tasks of a project in a Gantt chart, a project leader will be able to monitor the progress of all the steps or milestones that make up this project. What are the urgent tasks? Are some tasks dependent on other upstream tasks? How can the workload be distributed among the project team? With a simple Gantt schedule, the project manager will be able to make decisions quickly. If this planning software is accompanied by a tool for managing tasks, resources and monitoring activities, as in Planzone, it becomes the indispensable tool for a successful project!
A complete project management solution.