Advanced time management with Timesheets
Timesheets are important to make your project as efficient as possible. Thanks to a timesheet tracking software, collaborators will be able to indicate their time spent on each activity allocated. Thus, managers and project managers will be able to get a better visibility along the project.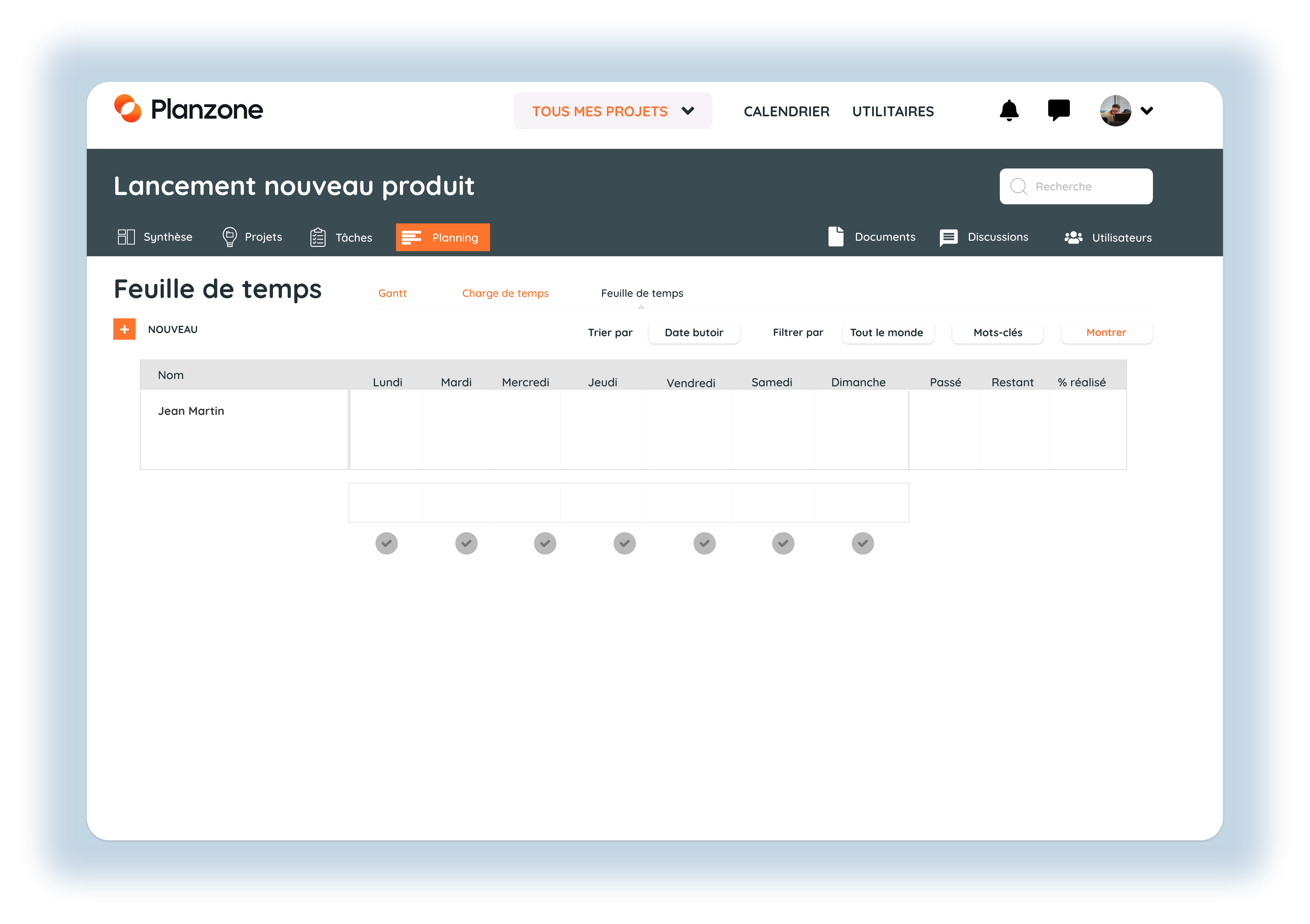 FOR PROJECT MANAGERS
For you, time management is an essential part of your job. With Planzone and its timesheet software, assess the time spent by your employees on each task of the project and analyze the collective workload.
Identify the availability of project team members
Track the progress made by users to anticipate delays on deliverables
Estimate the cost of the project from the time spent, at any time during the course of the project
Export individual timesheets for further analysis of data
FOR COLLABORATORS
To better understand your work time management, enter the hours worked on your assignments and discuss your individual workload and attendance time with the project manager.
Identify your workload over a given period
Fill in the time spent on each phase of the project
Anticipate delays in your tasks to report them to your Project Manager
Create discussions on dates and projects to debate specific topics
A succesful time management for succesful projects
Thanks to a simple and fast view, the project manager will be able to identify all the working hours and actual activities on one or more tasks allocated to the current project. This timesheeting software will allow a better understanding of the Gantt schedule and allocate additional resources to critical tasks or milestones according to the progress, delay or absenteeism of employees. A real management tool essential for meeting project deadlines and dealing with unforeseen circumstances.
A better team and ressource management
The time management tool is an integral part of Planzone project management software. Thanks to this type of software, which offers a full range of tools for effective project management, managers will be able to better monitor and support the resources allocated to a project. Good resource management can only be done by monitoring the presence and actual working time of employees on one or more tasks. A good manager must know how to anticipate employee workloads, which is why monitoring the progress of tasks is essential to compensate for a delay and assign a new resource if necessary.