Project Resource Management
Plan and track the work management of your project team.

What can such a resource management tool integrated into a project management software bring? Review of a fundamental element for managers and project managers.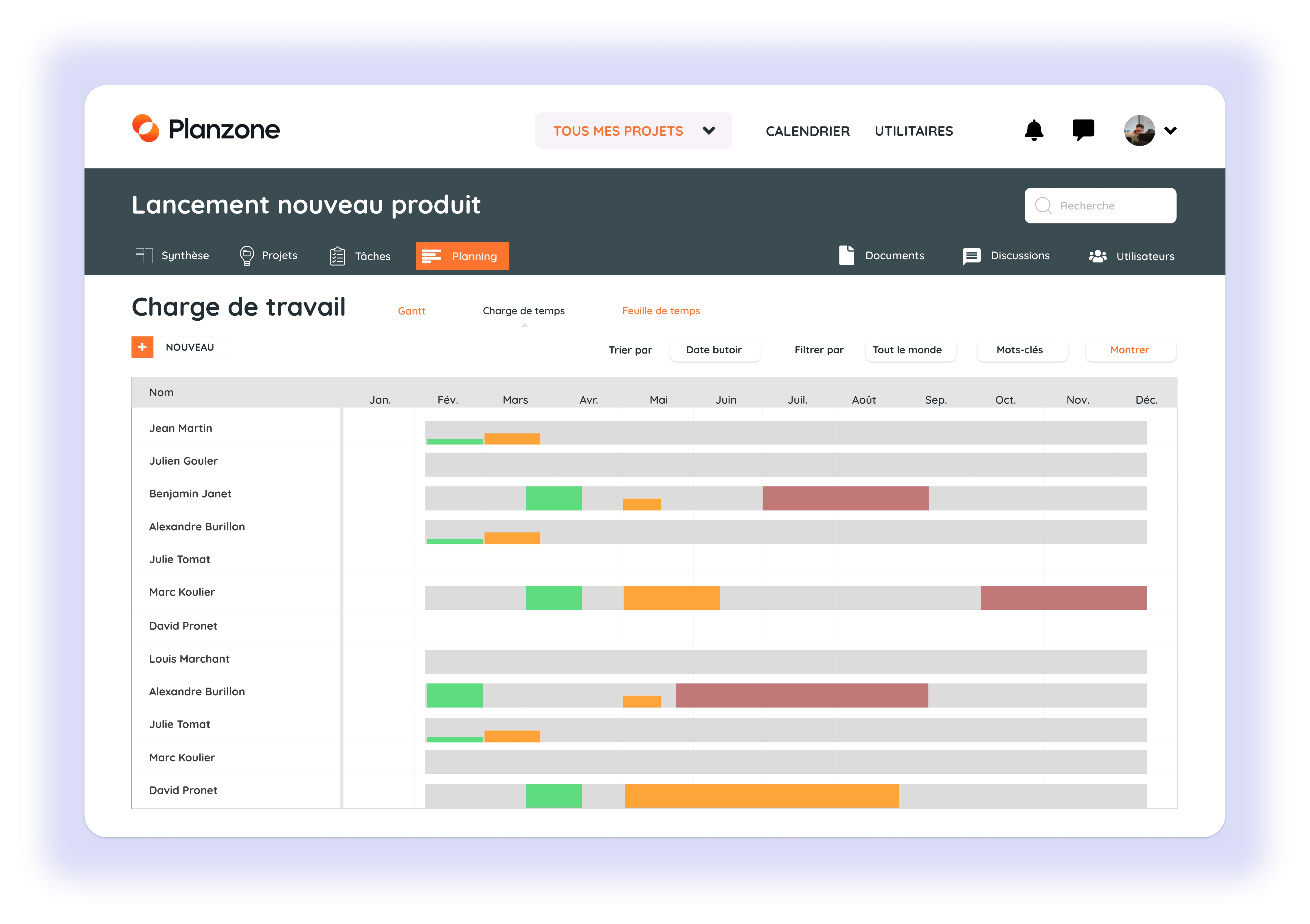 On Planzone you will be able to
1. ORGANIZE YOUR PROJECT RESOURCES
Assign tasks to your team members and allocate hours for each of them.
Visualize them on a visual and dynamic schedule.
2. FOLLOW-UP YOUR PROJECT TEAM
Follow the load plan of all project stakeholders.
Quickly see who is available and who can no longer support thanks to the color code.
3. MANAGE YOUR PROJECT RESOURCE TASK
Optimize your team's hourly and/or daily assignment rate to avoid overloads or inactivity floors.
4. MANAGE YOUT PROJECT PORTFOLIO
At a glance, visualize your team's workload on the projects of your choice or those to which they are assigned.
Plan the human resources of a project
The success of a project depends heavily on good management of its resources, especially human resources. The human resources of a project are all the employees who will work on the project in question. After assessing the duration of each project task, these tasks must be assigned to each of the men and women in charge of the project and in line with their skills. While some employees will be in charge from the beginning to the end of the project, others will have ad hoc tasks to complete at specific times. Therefore, a Gantt diagram view is fundamental to the planning of these project resources.
Monitor and manage project resources
Thanks to its project management software, the manager will have to manage the different resources to ensure their assignments to the previously identified tasks, while reassessing them throughout the project. Tracking these resources may allow the Project Leader to decide if a task, more complex than anticipated, needs support and perhaps assign an unsolicited resource to that task. With such a follow-up, the project manager will be able to easily make a report at the end of the month, or at the end of the period, to visualize the number of "spent" man-days for each completed or ongoing task.
Better anticipate the cost of a project
With Planzone and its project resource management tool, projects and their costs will be easier to understand. With the definition of each task and the allocation of these to each resource available for the project, the manager will be able to visualize the number of man-days that will be used to complete the project. And so, if necessary, create a quotation as clear and as precise as possible.
A complete project management solution.