A PMO software to cover all the project office's daily duties
Planzone assists the Project Management Office (PMO) in all its daily duties. Project planning, resource allocation, project portfolio management and development of a common project management method : it's all here!
Planzone for PMOs
Efficient design reviews with progress indicators
To make exchanges with project managers easier and highlight PMOs' performance, you need reliable key performance indicators (KPIs). Planzone offers you a customization of your performance, completion, reporting and descriptive indicators.
GET A
360°

VIEW OF THE WHOLE PROJECT PORTFOLIO
As the project manager of your organization, you need to get real-time visibility on your projects' progress in one click. This is the main role of the Planzone interface which includes the following features :
Visualize the tree structures of your projects, their interactions and their calendars at a glance
Simplified design reviews
Reportings standardized to your choices
Multi-project dashboards
A complete list of the projects, filtrable by tag, start date, end date, or update.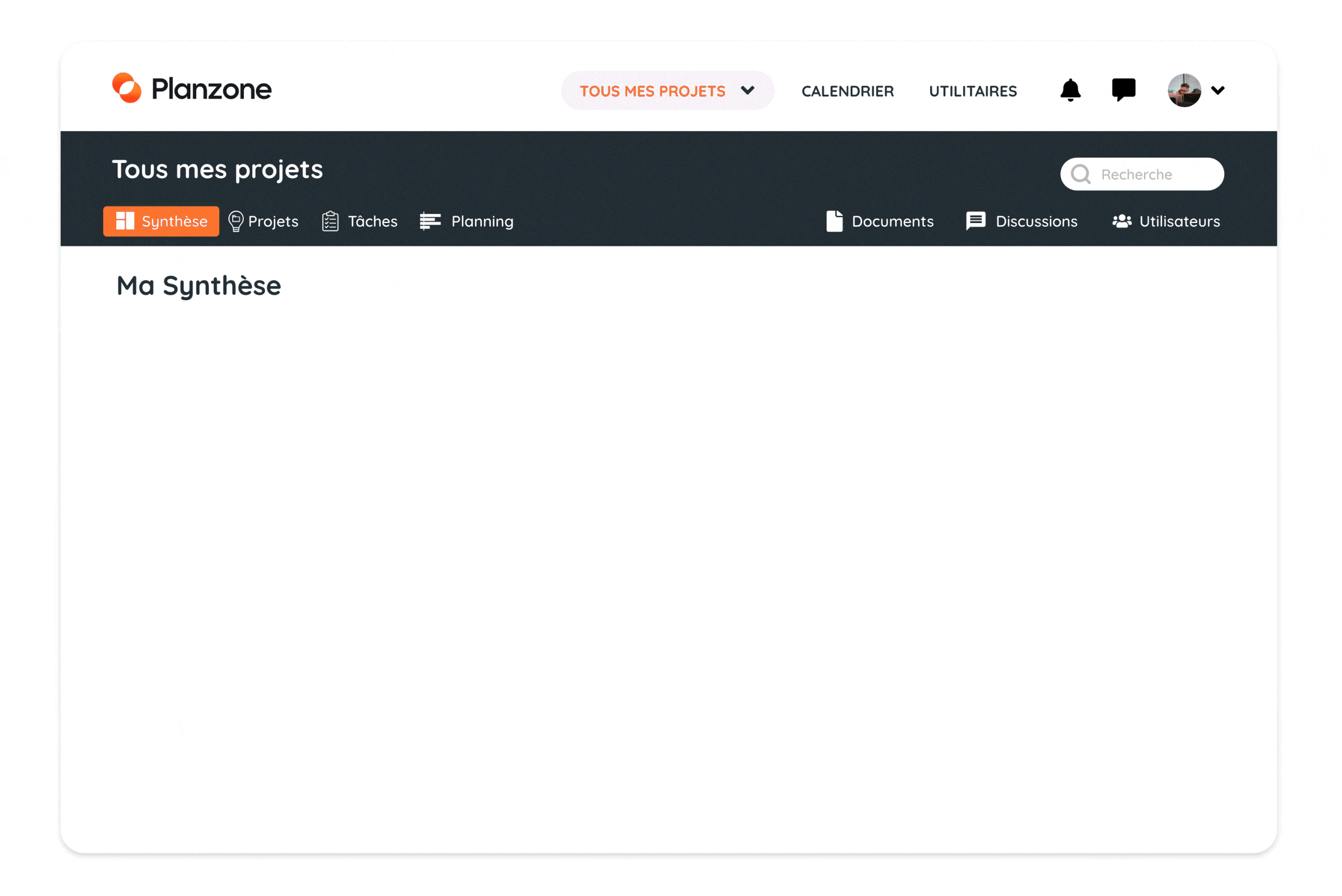 STREAMLINE

RESOURCE MANAGEMENT
To allocate suitable resources to every project, the PMO must know about every employee's performance and coordinate priorities by juggling planning, budgets, planned workload and human resources.
Objective: mobilize the right resources at the right time by defining every worker's role according to his skills. Show responsiveness and anticipate project risks.

Thus, the following features are essential :
DASHBOARDS
Benefit from an overview of deadlines, projects' progress and mobilized resources.
WORKLOAD
Get visibility over your team members' workloads with color coding that highlights unavailability and overwork.

REPORTING
Make exchanges with managers easier with the "reporting" feature that gives you a quick insight into the project's progress and issues.

TEMPLATES
Enjoy customizable project templates and design review outlines.
FOSTER A COMMON

PROJECT CULTURE
Spreading common project management methods is one of the main PMO's objectives. It is all about setting proper practices by standardizing all the departments' processes. Thus, you need standardized KPIs to make internal communication easier.

When used as a PMO software, Planzone makes life easier with:
An onboarding process
that lets you customize the project management method used by your organization.
Customized project templates
according to the sequence that suits you best.
Metrics et progress indicators
shared by all departments.
Standardized design reviews
Standard roles and teams
customizable to your preferences.
ENSURE THE

TEAM'S ADHERENCE

TO THE NEW PLATFORM
As a decision maker in choosing your organization's project management software, you need to make sure of your team's support. It is all about convincing the diverse hierarchical levels regardless of their degrees of skill in computer science and project management.

Planzone is not a software for PMOs only. It is an easy-to-use solution and its features are useful for everyone:
Foster collaboration by means of user-friendly features;
Adapt to your usual methods;
Offer a diversity of training sessions to managers, project managers and users;
Offer a post-training support to make sure of your knowledge;
Guarantee an available technical support team.
R&D MANAGEMENT WITH PLANZONE
Display dependencies between project phases in one click. Filter projects by priority. Here are two distinct features mobilized by the BTP Geoxia company. Get a preview!